About Ola
Slowly but surely, Polish born singer-songwriter Ola Bienkowska is making waves in her native country, delivering an understated batch of jazz and blues flavored pop with a Slavic heart and a western vibe. After years of providing support for artists at home and internationally, backed by the crème de le crème of Polish musicians Ola finally steps into her own with a unique collection of beautifully crafted songs, haunting melodies and heartfelt lyrics on "Résumé (Take One)".
2012 was a year of firsts for Ola. Her first single "Diggin'" (Bogdan Kondracki version) became Song Of The Day on Polish Radio One and received considerable airplay in several Polish regional stations, hitting No 1 on the Radio Lódz pop chart. The video for Diggin' aired on VH1 Polska and VIVA Polska as well as Rebel TV, 4Fun and Polish national TVP channels.
Ola has also joined the ranks of several Polish pop and indie household names like Kayah, Natu, Ballady i Romanse or The Warsaw Village Band and many others at Rak'n'Roll Records, donating her single "2000 & Fine" to the Rak'n'Roll cancer foundation.
Following a successful Pledge Music Campaign Ola recorded four of her songs in a live session at the renowned Fabryka Trzciny in Warsaw. Similarly, in November she recorded a live session for the indie music website Uwolnij Muzyke. In December Ola released her holiday single and second video to "2000 And Fine", created by the talented Maria Ines Gul.
March 2013 saw the debut of Ola's songs on US airwaves. Ola also became the Ambassador of the Music For Life campaign raising money for children with hearing disabilities. In May 2013 Ola will release her third single "If I" along with a new video.
In 2013 Ola started to work on new material, while touring with her own band throughout Poland and hopefully Europe by the end of the year. Ola also continues to tour with Brit Floyd – The Pink Floyd Tribute show, having recently completed a 35 gig run in the US and Canada.
****
"The first thing a listener notices about Polish singer-songwriter Ola Bienkowska is the serenity imbued in her vocals. Angelic and smooth, her singing makes her album 'Résumé' (Take One) one that is pretty easy to consume, but it's not for everyone. Many of the tracks are a touch too soft for a regular pop listener, yet great for someone looking for a more polished jazzy album. Even when the surprising guitar riffs show up on a song like, 'In Pursuit (Things That I'd Do)', Bienkowska's sense of sweetness is what stands out. She is particularly adept at lyric-writing, making a fine showing of love songs that lack clichéd sentiments, an anomaly for even the most accomplished songwriters. On 'Secondhand' she turns proverb, 'The clothes don't make the man' on its head: 'The clothes don't make the man/when they're positively secondhand'. It's that creativity that could land her a wider audience than just those used to lighter fare."
Billboard Discoveries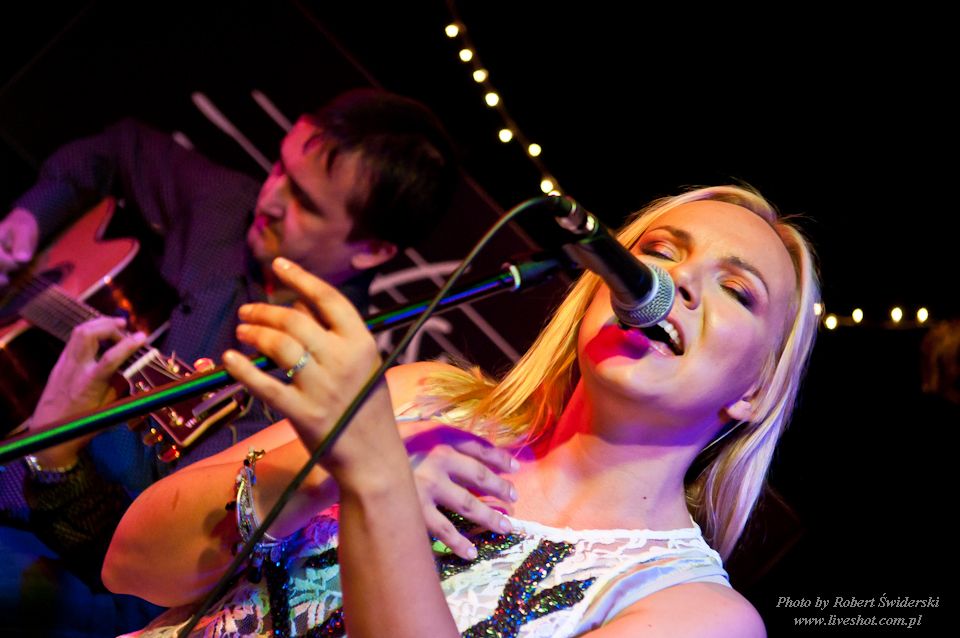 Ola Bieńkowska was never really convinced that singing is the only way forward. She was fascinated by and drawn to everything around her – she took equal pleasure in joining youth theater, running around the neighborhood solving crimes pretending to be Makepeace (of the Dempsey & Makepeace fame), swimming, playing tennis, observing the way the stars lined up in the sky, or exploring organic chemistry (though the last one mostly because of one very cool teacher). Ola has always simply valued variety in life. And she's hungry to experience as much as she can. "Great music, good company, a breathtaking landscape, an excellent meal, an interesting book… They all affect me equally " – she says.
Raised in family with an exceptional academic and business background Ola could easily have become a scholar or manager. And, as she herself claims, she would have been excellent at it. "I love being involved in a variety of projects. I am an observer by nature, but have always been driven by making new ideas and concepts come to life and seeing them through until they become a reality" – she says. That's why while learning to sing and act she would take courses in concert touring, music marketing and artist management, while still managing to graduate from Warsaw University with a MA (Honors) in Applied Linguistics.
Ola's skills and interests have never been important enough to stop her from doing what she loves most – sing. Having honed her craft under the guidance of the Polish First Lady of Jazz - Ewa Bem - at the Warsaw Frederic Chopin School of Music, Ola went on to study Performing Arts at The Liverpool Institute for Performing Arts and received an honors degree from the hands of Sir Paul McCartney himself. When asked about her two years in Liverpool, Ola talks about great parties and the fantastic international company she was in, but mostly refers to how important it was to be involved in various projects, rehearsals and extracurricular activities. And to earn some money in the meantime - as a then no-EU member she would work several days a week in a coffee shop trying to pay her way through an expensive tuition.
Independence is certainly a strong personality trait of Ola's. She wrote all of the lyrics and basic song sketches for her solo project by herself. Just as she raised money herself for her live video project through Pledge Music, a crowd funding website. She then booked the acclaimed Warsaw venue Fabryka Trzciny, organized musicians, film crew, sound crew and glam squad, co-produced the event and even released a commemorative album documenting it. But she is driven by more than just a hard working ethic and ambition. "I have an innate need to prove I can handle things on my own. It's only lately that I've learned to ask for other people's help – about time, too" she laughs. Singing and acting on stage though it would seem are a different matter entirely for Ola. "Performing is as organic and natural for me as breathing. It's not about being alone on a stage in the spotlight – to me it's almost a metaphysical experience and a totally unique way of communicating with other people. I wouldn't stop singing even if I couldn't make a living out of it," she says.
Luckily for the fans of Ola's amazing voice she did quite well as a professional session singer. For the last ten yeas or so she has worked quite intensively in dubbing and voice-overs, toured and recorded for an array of Polish artists, she has been part of the Polish Pop Idol band, performed at various festivals like Opole, Sopot, Top Trendy and finally acted in musicals, most important of which was the female lead Sarah in Roman Polański's "Dance Of The Vampires" at the acclaimed Roma Theatre in Warsaw. These experiences gave her the energy to reach even higher, or in this case further. Invited by her agent and former teacher, Liverpool singing legend Jennifer John, Ola flew to audition for a part in a Pink Floyd tribute show.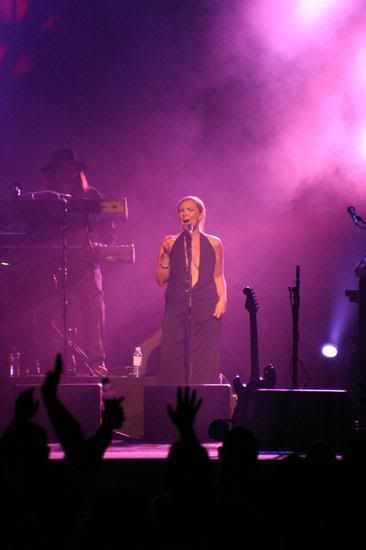 Over the last seven years she has played roughly over 600 gigs with The Australian Pink Floyd Show and later with their British counterpart Brit Floyd – The Pink Floyd Tribute Show, during which she had the opportunity to perform in such prestigious venues as the Royal Albert Hall, the legendary Paris Olympia or the San Francisco Fillmore, as well as hundreds of other venues all over the world. With TAPFS Ola toured both Americas and Europe, while Brit Floyd also took her to the Middle East and to the most famous festival in the world – Glastonbury.
And even though pursuing a solo career wasn't necessarily up there with her biggest dreams, after years of providing support for other artists at home and internationally, Ola finally decided it was time to step into her own. "Recording a solo album is the most natural consequence of what I did before. It's an obvious step forward on my musical path" – she says. The first batch of songs written with and produced by Polish jazz composer and arranger Krzysztof Herdzin came out in May 2012 on a record entitled "Résumé (Take One)" which Ola released on her own label Art Link Entertainment. "The process was incredible - I have never felt I was learning so much as when I overseeing the process from the beginning to the end. "Résumé (Take One)" is truly my baby".
Ola's favorite artists inspired the music. "At the time I was listening to lots of John Mayer, Sara Bareilles, Colbie Caillat - those where my main idols at the time. I'd mix my playlist up with some Adele, Corinne Bailey Rae, Paloma Faith and Sia too. Naturally I was also influenced by everything I've soaked up as a teenager." Her pop songs are therefore spruced with a bit of jazz, American folk and funk. And there's the odd string quartet in there too.
Krzysztof Herdzin, the 2012 winner of the Fryderyk - the Polish Phonographic Academy's highest honor for best jazz composer and arranger of the year - produced the first release. To record with her Ola has also invited her friends - some of the finest musicians on the Polish scene. Apart from the aforementioned Krzysztof Herdzin (piano, string and horn arrangements and production) they were Jacek Królik (guitars), Robert Kubiszyn (bass and double bass) and Robert Luty (drums). The songs were recorded and mixed by super-talented Rafał Smoleń at the Warsaw Sound and More studio and mastered by Denis Blackham, responsible for the final sound of numerous albums by an array of world class talent from Led Zeppelin to Anthony & The Johnsons.
"I can't describe the how proud I was to pick up "Résumé (Take One)" from the printers. So much emotion and effort, so many inspirations, beautiful sounds and love locked it such a small box," muses Ola. And quickly ads – "But I've not stopped working since". The initial recordings became a starting point for Ola's collaboration with producer Bogdan Kondracki, responsible for the initial successes of acclaimed Polish singers Ania Dąbrowska or Monika Brodka. A new take on the song Diggin' produced by Kondracki came out in May 2012 and became Song of The Day on Polish Radio 1. It was also the first official single from Ola's first full-fledged Polish release titled simply "Résumé", due for release in 2013. "I love collaborating with new people. It is such a thrill to see different personalities and tastes come together to produce something new and let the creativity run wild."
2012 sets to be a breakthrough year for Ola Bieńkowska, so stay tuned for the ride.